RETURN OF THE LIVING DEAD review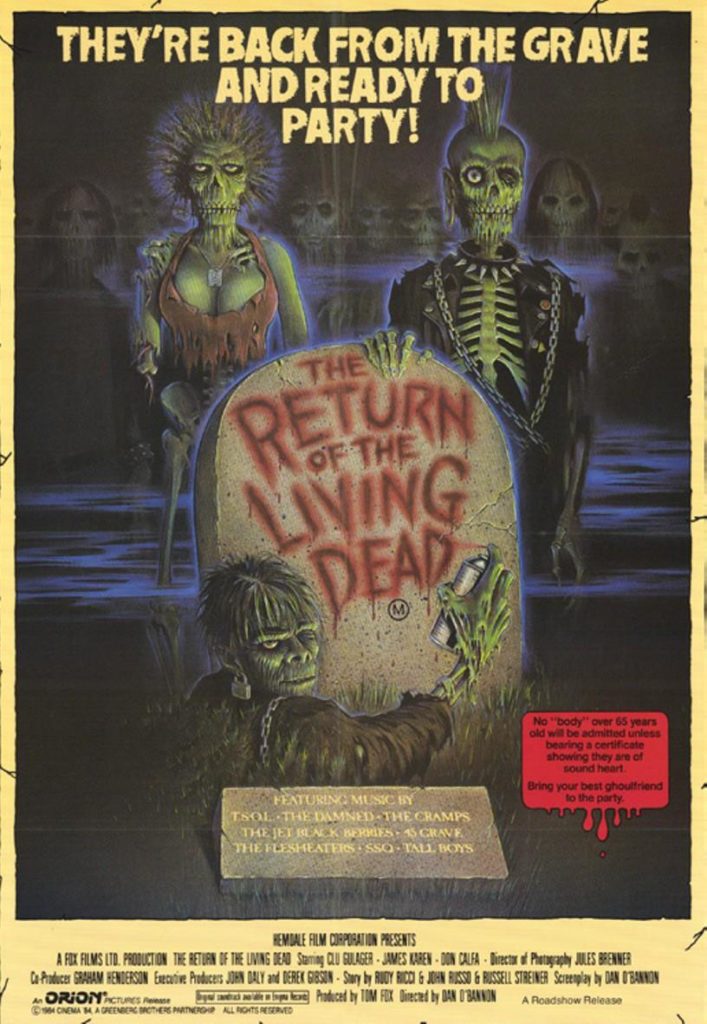 It must have been Halloween of 1986 when my pal Orin and I watched RETURN OF THE LIVING DEAD for the first time. It kind of sums up a perfect Halloween movie for 14-year-old boys: tongue-in-cheek, energetic, kitsch, gory and fun. Linnea Quigley's weird punk-goth dance on the gravestone didn't hurt matters much either (however, the fact she walks around killing people as a monstrous ghoul while still naked did create a lot of conflicting emotions).
It seems RETURN has no aspirations to be a message movie (that's why we have Romero), but it actually has a lot. The punks aren't deplorable thugs (they're actually quite level-headed and loyal) and join forces with the older generation quite easily. I often argue that humanity's nihilism in zombie films is overstated. People come together during horrible events like 9/11 and the Paris attacks and I believe something in us desires the social contract more than anarchy. So kudos to RETURN for having a bit of arguing but a whole lot more cooperation.
But when it comes down to it, RETURN is just plain funny. The zombies are verbose (one explains they eat brains because it quells the pain that death brings) as well as smart and clever (I absolutely love they get on a radio to order more cops and paramedics into their graveyard). The characters are likable and practical: the humor is the insanity of the situation rather than their cliched stupidity.
To tell you the truth, after watching too much WALKING DEAD, I really, really needed some RETURN in my zombie diet.